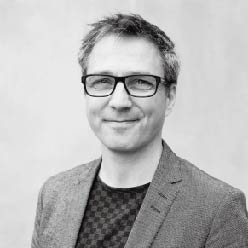 Rene Toneman
Graphic Design Jury
GRAPHIC JUDGES
Rene Toneman (1973) is creative director and founder of SILO Agency in The Netherlands. He is also member of the board of the Association of Dutch Designers BNO.
Rene graduated Graphic Design at the University of Arts in Breda, The Netherlands. He started his career as a graphic designer at the critically acclaimed Studio Dumbar. He developed in the field of visual identities for the larger and prominent enterprises. After leading a creative team at Fabrique he established a new creative agency in 2007, called SILO.
SILO is a vibrant creative agency driven by research and innovation. The agency works at the intersection of brand, digital and spatial environments to advance the human experience. Currently the studio comprises of 15 multi-talented designers, engineers and developers. Clients include a.o. Droog, Mecanoo Architects, the Museum of Modern Art, Zaans Medical Centre, Muziekgebouw, Utrecht University, The National Military Museum and Delft University.
Rene has been recognized during his career with the highest rewards from D&AD, ADC New York, the European Design Awards, Red Dot, ADCN, DDA and IF. In 2012, less than 5 years after establishment, his agency received the prestigious award 'European Design Agency of the Year' in Helsinki. In 2017 they received this honorary title again in Porto.On occasion Rene participates in competition juries such as ADC New York and ADC Amsterdam.